Venture Out in Panama City Beach, Florida, is nestled on the far East end of the beach and rests on 100 acres surrounded by a world-class marina, tranquil Grand Lagoon, award-winning St. Andrews State Park and the warm Gulf of Mexico. There is no other community like this from Key West to the Texas / Mexico border.
A gated, manned security entrance greets you upon arrival. The sprawling community consists of 735 sites, all individually owned. We have 300 feet of private beach, two pools (one heated), a community clubhouse, fishing docks, boat ramp and docks – and so much more.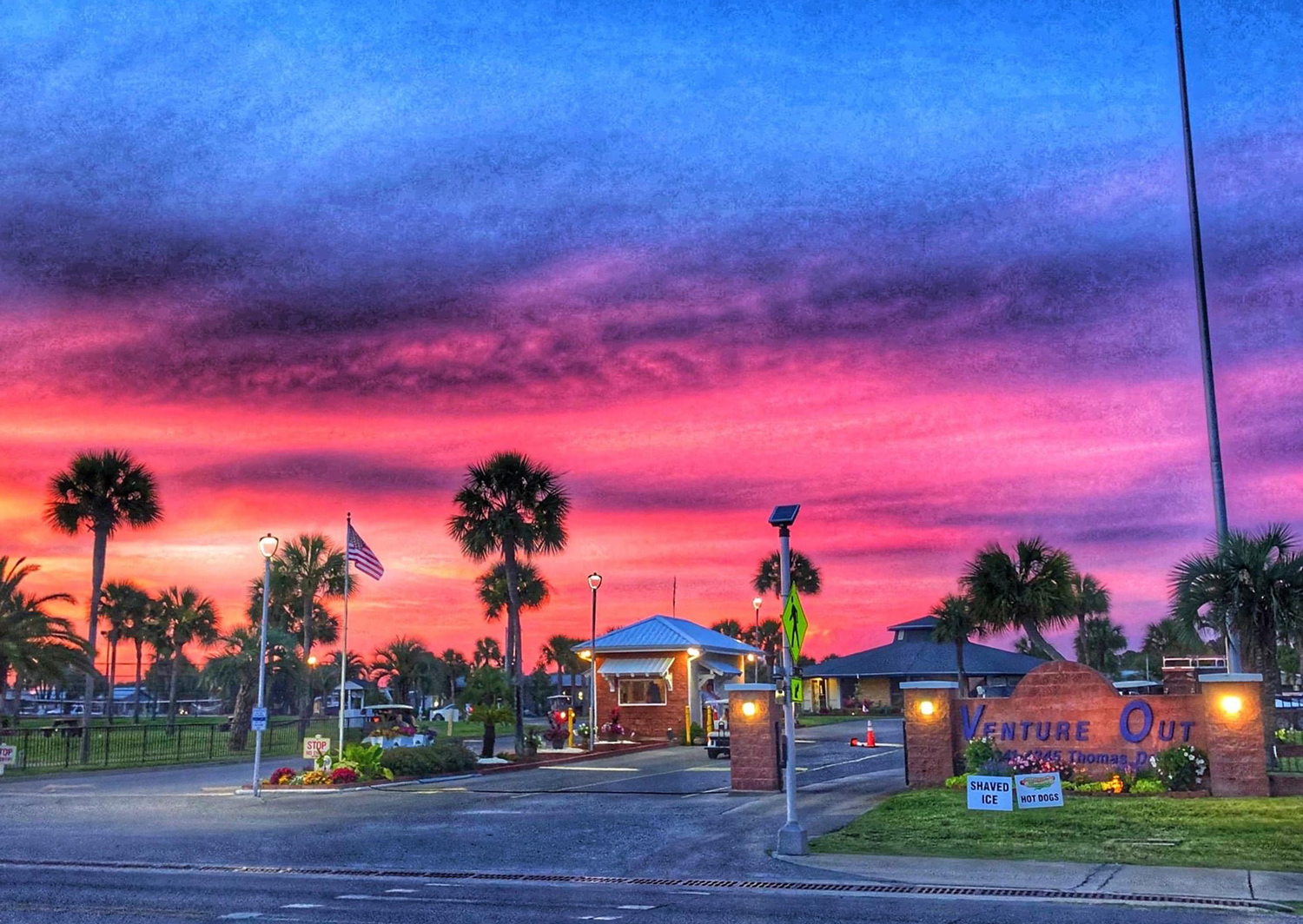 Our story dates back to 1968 when Gulf Oil decided to develop five Travel Trailer Resort Parks.
These new parks, known as Venture Out were built in Florida, Arizona and Tennessee. The grand opening of Venture Out Panama City Beach took place July 3, 1970. At the time, the park offered RV lots complete with palm trees, a 10'X 16' patio and a concrete picnic table set. All lots had hook-ups for travel trailers with prices starting at $4,495.00.
Venture Out Panama City saw the final phase of development in 1977. The final lots sold completely out in less than one year. It was at this time Gulf Oil turned the management function of the park and the balance of the property to the Condominium Association consisting of 735 lot owners. Each lot owner owns 1/735 of all the common areas for the entire park and pays a common maintenance fee each month to keep them up. Owners also own their lot fee simple and assumes the maintenance thereof.
Venture Out has grown from a bustling RV community 50 years later to a beautiful patchwork of coastal cottages and homes – and yes, a few remaining RV sites. From a starting price of $4,495 in 1970 to today, with homes selling for well north of $300,000 early owners truly did find a treasure in this little piece of paradise.
Throughout our 50 year history, one thing remains the same: Venture Out is a beautiful place to gather with friends and family to make memories that will span generations. Many of our owners today, were babies when their grandparents purchased their site in 1970.
Our story continues today.
Our Governance and Management
The Board of Directors of Venture Out would like to welcome you to our unique community.  We are proud of the Venture Out at Panama City Beach Owner's Association and concur with those owners and visitors who believe it to be an amazing place to be an owner or guest.  The environment of the community is, by design, an extension of the peaceful ambience that characterizes Panama City Beach – an environment dedicated to the leisurely enjoyment of social and recreational interaction among friends.
Each of the 735 individual sites is privately owned with fee simple title just as home sites are normally owned in a community.  The common elements, i.e., streets, recreational amenities, office and clubhouse buildings, tennis courts, swimming pools, etc. are owned in common by the site owners and make up the Venture Out at Panama City Beach Owner's Association.  The Association operates as a Condominium Association.  The 735 owners elect a nine-member Board of Directors to act on their behalf.  Board members are elected each year at the annual meeting in August to replace those whose terms have expired.  The ultimate responsibility for the management of the Association, including strategic, political, and financial development, rests with the Board of Directors, the duly elected representatives of the owners.
The Board sets policies and procedures which are implemented by the General Manager who is employed by the Owner's Association.  The day-to-day operations are delegated to the General Manager and include all grounds and facilities maintenance, enforcement of rules and regulations, building applications and compliance, billing, collection of receivables, financial oversight, office, and security staff as well as owner, rental and vendor interaction.
We sincerely hope that you and your family enjoy the facilities and activities of our community.  We are here to assist you and will do our utmost to make your stay a pleasant experience.